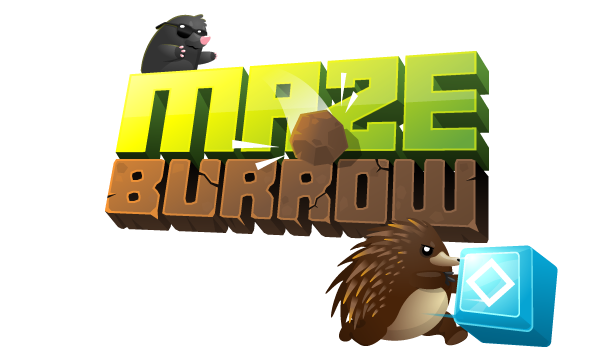 Maze Burrow
Hello all!
I've been hard at work on Maze Burrow over the past month, and I'm pleased to announce the release of v0.4! This update introduces a grand total of 45 levels, improved overworld navigation, and an undo feature among many other improvements!

Changelog
A fourth world has been added along with 22 more levels; this totals 4 worlds containing 45 levels!
New undo feature: Undo previous moves!
Improved overworld: branching paths allow you to choose which levels you want to play, and you can now look around the map.
New level stats: your best times and moves for levels are recorded. Can you optimize your solution?
New mole sprites: now you can see the fiends who dug out the echidna's burrow!
Improved the game's difficulty and learning curve.
Added visuals to indicate when a block is on mud or ice.
Spot patterns have been made more subtle to not distract from the rest of the puzzle.
Most rocks in boss levels now stun the player instead of forcing a level restart.
Added current level and world information to the pause screen.
Fixed a bug that may cause moles to hit themselves immediately upon throwing their rocks.
Fixed a bug in which pushing a paired block that's on ice wouldn't also move its linked block.
Fixed the loud audio overlap on the "Solved" level due to multiple blocks starting on their spots.
Significantly reduced the time it takes to enter, exit, and restart levels.
Added an additional new music track for levels.
NOTE: Unfortunately, save data from v0.3 is not compatible with v0.4. As Maze Burrow evolves, I'm hoping to finalize the save data format so it can stay compatible with previous versions.
I spent a lot of time working on v0.4, and I hope you enjoy all it has to offer! As a reminder, you can reach out to me and stay up to date on Maze Burrow's progress via my Twitter. Keep burrowing my friends!
-Kimimaru
Files
MazeBurrow_v0_4_Windows.zip
36 MB
May 24, 2019
MazeBurrow_v0_4_Linux.zip
44 MB
May 24, 2019
MazeBurrow_v0_4_macOS.zip
44 MB
May 24, 2019